Cycling into a head wind, with a face covered in flys, pushing the bike through deep sandy sections. Coupled with an intense stomach cramp that went on day and night. Yes I can safely say that this was a low point in the trip.
A bit of a reality check, why the F#!% are we doing this?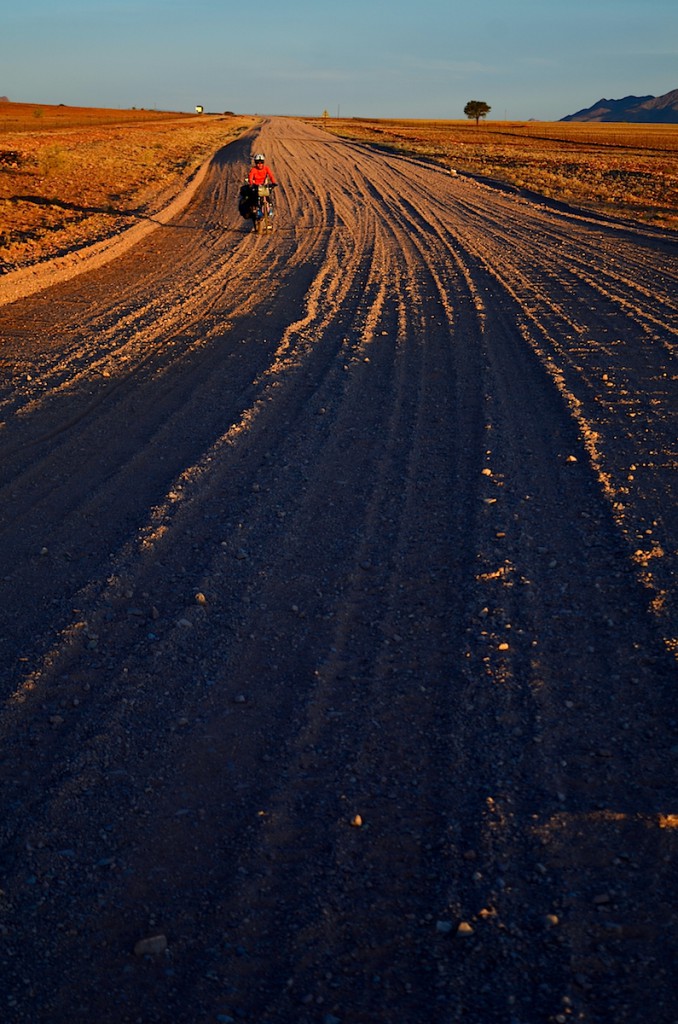 Some well needed rest days were in order. Up until now I had been feeling fit and healthy. Full of beans, chick peas and peanut butter. We were cruising. The day after our evening river wash, we had some pretty awful head wind for 50kms. We took it slow and averaged 10kms an hour.
Arriving in Helmeringhausen, Mayu spotted someone with a tennis racket. It was Saturday, 3pm and the local tennis club was about to start their weekly club session. I couldn't say no. However 3 hours of no stop tennis after 5 hours of cycling might have been a bit of an over kill. Never the less it felt so good to be on the court, and great meeting the local farmers in the area.
One of the families I played with were living on the C27, the road we had planned to take north towards Sesriem.
They lived on a farm called Aubures, about 5 km off the road. A beautiful setting and a really lovely family to spent time with. They showed Mayu and I what type of farming they were doing.
They were involved in a long tradition of lamb skins, each skin was called a pelt. They sold these pelts to the high end fashion industry. It was explained that when a lot of the fur laws were introduced in early 2000, Namibia made a huge loss in their export market. Producing around 5 million pelts down to 120 thousand pelts a year.
Most fur activists would see this as a good thing. However this way of farming is a close loop, they don't have to look after the lambs and protect them from predators as they are slaughtered after 48 hours. If they are not farming for skins, the only other alternative in this area is farming sheep for their meat. In turn tripling their flock, and tripling the strain of grazing on the land. It also means that with such a large flock, they would not be able to keep them in a kraal, or pen at night. Instead the sheep would roam night long and sleep in the open. You now have to keep your farm free of predators, which involves shooting a number of cheaters, leopards, jackals and eagles, when ever they pose a threat to the flock.
We had an experience of this about a week before hearing a farmer roaming around his land at night shooting jackals. Very interesting seeing the other side of the story.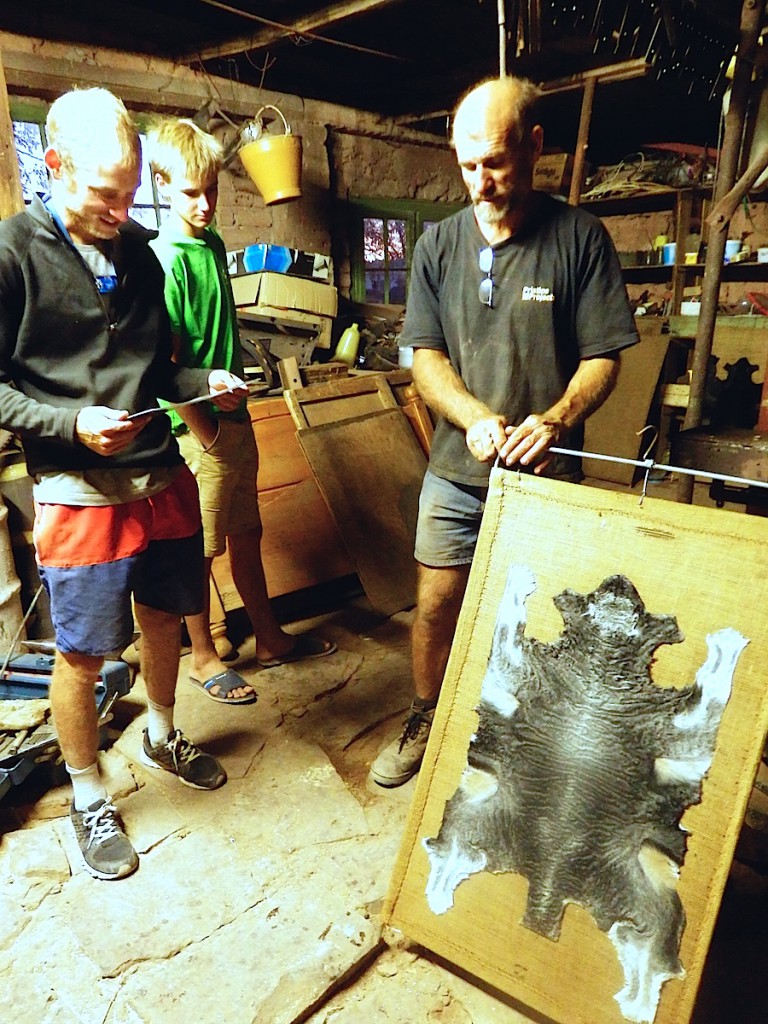 We left Aubures a little late. With only 50km to our next destination Beta campsite, it should have been a breeze. However I forgot to take in account a for warning from another cyclist about a sandy section.
Wow, it was very tough. About 10kms before a farm called Spes Bona we had very deep sand and strong head winds. We spent a good couple of hours pushing our bikes, arriving at Beta just after nightfall.
Mayu and I were in need of a shower and a good rest.We planned to spend a couple of nights, but the unfriendly staff made us thought we can find some comfort further on.
I think this is where we made a mistake. With 140km until Sesriem, we thought there was a good campsite 50km ahead, it turned out it hadn't been used in a while, but we could get water there. We ended up pushing a bit further beyond that and camped beside the road.
I'm not exactly sure what set me off, but that night my stomach cramps began. I had a very shitty nights sleep, and when morning came, I knew that we were already a fair distance forward, so it made more sense to push on.
The scenery was beautiful, but I was battling with my stomach cramps, the more you push the worse it gets. I flag down a car to ask for water, lucky for them that I flagged them down. As they hadn't realised their front tire was ripped and they were driving on the rim. I was little baffled as to why the driver didn't know. He said it was pulling to one side a bit. We waved them off, and I just kept thinking to myself in a downward spiral 'why didn't I ask for a ride to the next town?'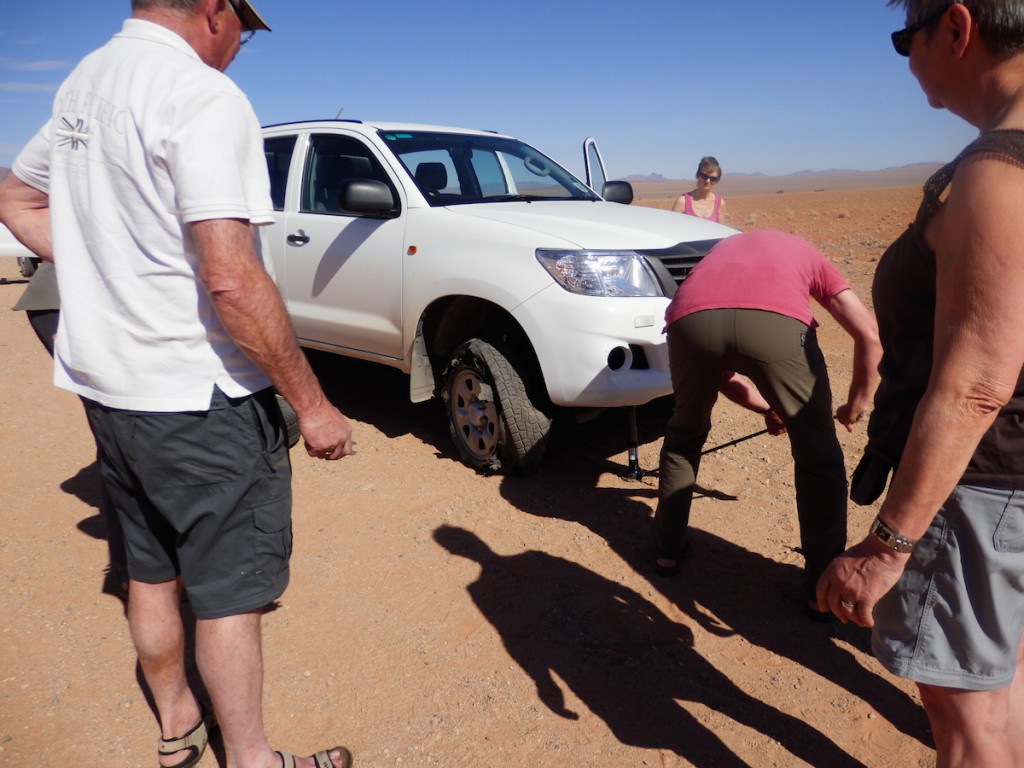 It's amazing how negative I get when I don't feel well. It's uncontrollable. I started going over and over in my head about all the comforts I miss so badly. A sofa, in a comfortable house. A kitchen to easily make a tea or coffee and a bit of cake. Just being at home really.
To be honest it's not a good thought pattern to get into cycling slowly up a sandy road in the middle of a desert. At 2pm I felt almost finished, ready to pitch a tent wherever and just lay down.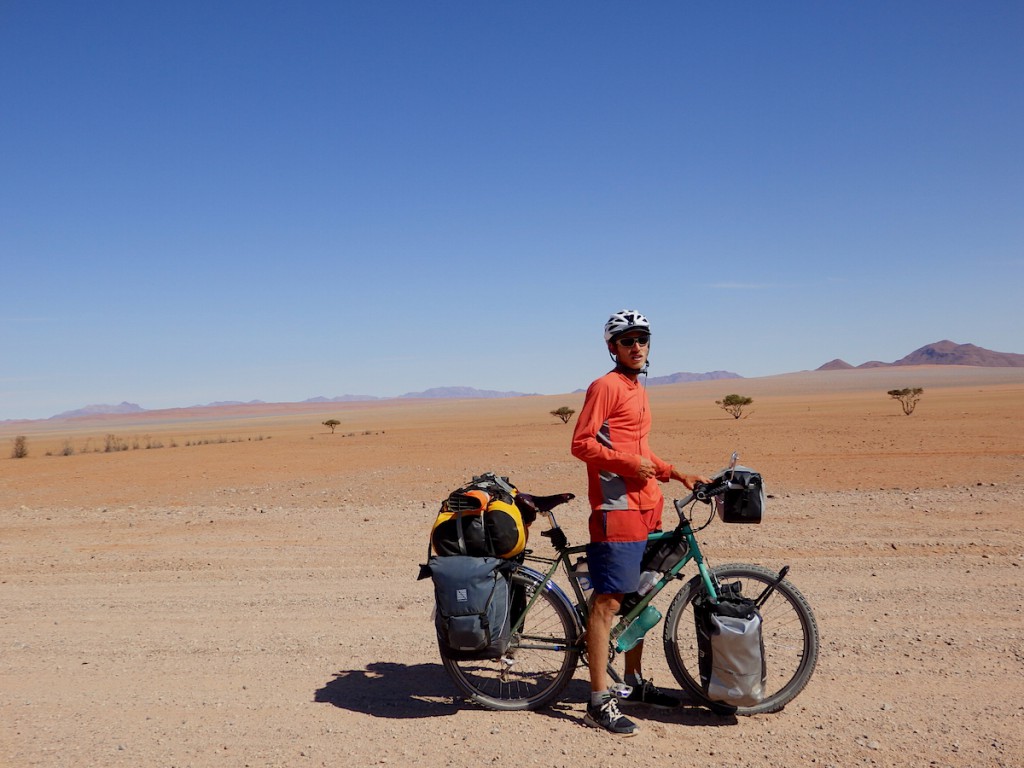 Head over the handle bars I rest for a few minutes. Mayu and I check the kilometres left until a posh lodge where we were hoping to fill up on water. There were a fair few cars running this route, but not many show interest in you.
However two very kind people Kevin and Debbie decided to stop for us. Amazing people. They gave us a cold mango juice each and offered us a ride to Sesriem. I can't tell how good it felt to get in that car!
Unfortunately my stomach cramps continued for 2 more days. But this didn't matter, I was no longer in the middle of nowhere and had the comforts of a shop and a shower close by.
Mayu and I are now spending a very relaxing few days in a town called Solitaire. There is a beautiful garden and free tea and coffee. From now on if we plan a rest day, we'll take it.
[fb_button]