Knowing that in front of us was some barren landscape, Mayu and I were a little bit anxious about the coming weeks. We had left Baku by ferry and arrived in Aktau. Considerably less developed but considered the capital of the region, it left us thinking. What might we find on the road ahead? Travelling slowly by land, the changes in culture and landscape are subtle, a bit like spot the difference. However crossing the caspian sea was leap into a different dimension. We were in Asia, and suddenly everyone took Mayu as a local.
The first check point from Aktau was a small town called Shetpe around 160km, this I wasn't worried about. We could carry water and food for this distance no problem, it was the following leg that gave us concern. 300km from Shetpe to Beyneu, from our map there showed a small town off the main road, but if it is anything like Namibia it could be just one house with no one home. Time to do a bit of research, this is where I sit back and let Mayu get to work.
'Hows it going darling?'
'Its really not as bad as we think'
A very helpful cyclist has made a pdf of the route with all the points we can get water! ( Type "Beyneu to Aktau cycle" on Google. You can find the PDF ) This let me relax a lot. Previously the road had been dubbed the worse road in the world, a unpaved hell for 460km with possible gale force head winds. Today this road is a holiday. Something that cyclists can now look forward to and one of the highlights of our trip. Its a beautifully smooth tarmac road stretching into the horizon, unfortunately the company constructing the road did nothing about the wind, but for a good percentage of the time it was behind us.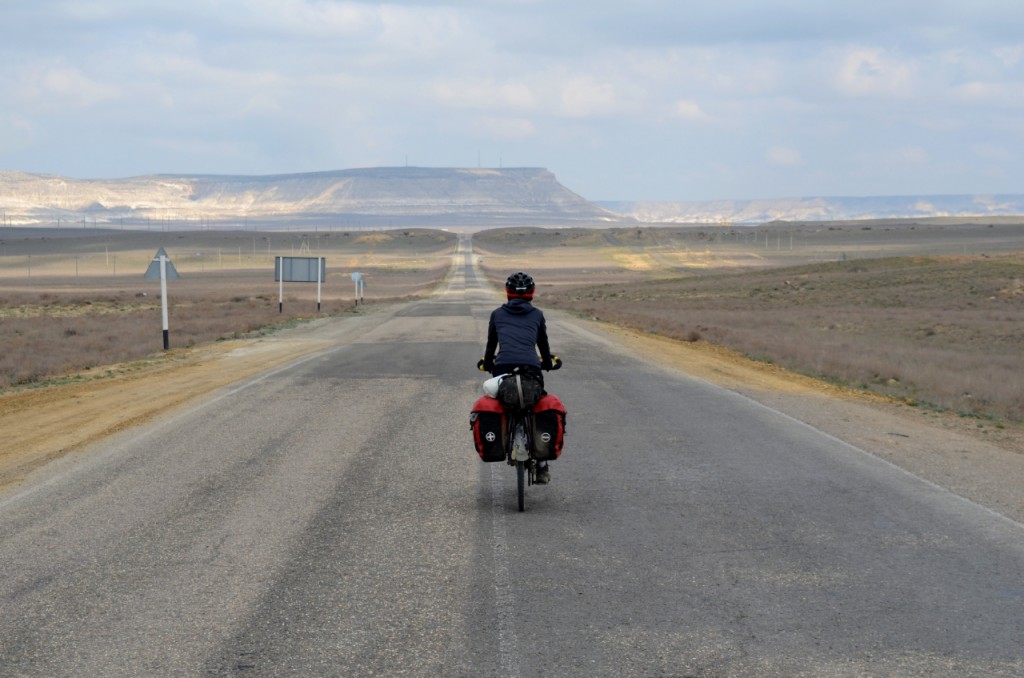 Our host Aigul in Aktau, asked us what we were planning to see in the area. We were pretty excited about the smooth tarmac and hoped to see a lot of that. There was also a very loose plan previously to cycle the completely wrong direction for a couple hundred kilometers, to see the edge of a deserty plateau sort of place. From pictures it looked amazing but way out of our motivational range. So Aigul started showing us some pictures of places. The first translated into 'the valley of balls.' It looked very out there, the picture was a 4×4 on a rough road in between these giant balls of rock. It looked very cool.
'Where is it?' I asked.
'Not far from here, but I don't know where exactly'
This comment did not fill me with any confidence, the internet said it was near Shetpe. Turns out its 60/80km (depending on the road) from Shetpe, in a car or motorbike. 80km is close, but cycling. That's a day. And if its a day the wrong way its a two day excursion. After a while, trying to search with slow internet I still didn't know where it was. I gave up and agreed to go for a walk along the sea front. Before I didn't know about this valley of balls I didn't care, but now it became a mystery I really wanted to solve. I'm pretty guilty of burying my head in a screen looking for answers that might not be there. Like a detective trying to solve a case. But the walk did us wonders. As we were strolling along on a sunny sunday afternoon, we walked past a row of pictures displayed in frames. Its like permanent exhibition displaying all of the sights in the region. And there was the valley of balls. Underneath the photograph was the photographer's name and the gps coordinates of where it was taken. Bingo! I took photos of every picture in the exhibition to research where all of these places were, and to see if any were within a reasonable distance from the main road.
Unfortunately a lot of them were way off course, but to our pleasant surprise. Good old valley balls was a stones throw away from the main road. There was even a track that showed up on the apps maps.me and OSMand. The location is roughly here ( 44.323727,51.585728 ) Its about a 13km de tour from the main road. At the junction where you would turn right to Shetpe there are three restaurants and a petrol station. So its even possible to walk from here if you are hitchhiking. We were pretty confident we knew where it was now, but after an all day head wind and a late start from Aktau we failed to even make the junction. That night in our tent we debated if we could be bothered or not. Cycling is a real head game, especially when head winds are at play. I looked further down the track on our gps and realised that it linked all the way to Shetpe. Maybe it wouldn't be a detour after all and we could take this track all the way.
The next morning we woke up to a beautiful tail wind, how things can change. We got to the junction pretty quick, ate some dumplings at one of the restaurants and filled our bottles. The staff at the petrol station were waving for us to turn right but we continued straight. We even got stopped on two occasions to be told that we were going the wrong way. This really is a place where only one road goes the right way. But we just explained 'valley of balls' and did a circular motion with our hands. No one understood of course, and with some more smiling and nodding we continued on our way.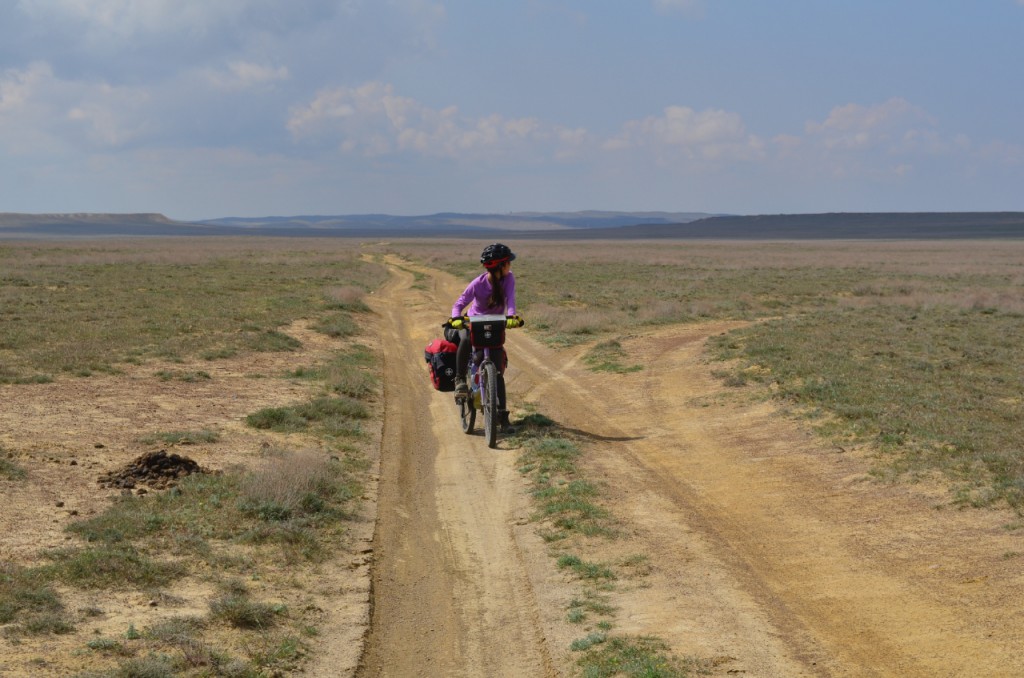 We kept our eyes out for a good looking jeep track heading east, as we still weren't entirely sure that the track on maps.me or OSMand even existed. However I can confirm it does and its very obvious. Don't be tempted by any of the earlier, less prominent tracks heading the same direction. The track to start with is in good condition, we were cycling about 10/15 kmh for 10 minutes maybe. I had the thought straight away that we could take this all the way to Shetpe. But it got worse. Most of it was rideable, but there were some sections when we had to push the bike in the sand. It took roughly an hour and a half to cover 9km with a strong tail wind, so maybe you can calculate how long it should take depending on the weather.
Something we notice immediately were the deep camel foot prints in the dry mud. This place looked like a lot of work if it was wet. The ground is a fine clay, sandy mixture. Mixed with water, its like glue. I wouldn't attempt it without knowing what the weather was like in advance. I think you could really get stuck in the mud here. With that in my mind and the thoughts of a previous cyclist a week or so ahead of us, commenting on cold weather and driving rain. It made me feel a bit nervous. The weather seemed fine though, there were clouds but not the rainy type. Like I'm a weather man. Really I don't know when it will rain, but my senses told me it wouldn't. Blind faith we can call it.
Checking our gps every few kms or everytime we came to a junction (there are a few junctions) often its a four way junction but sometimes its baring left or right. I'm not talking zebra crossings and traffic lights, only very faint tracks going all sorts of directions. Just stick to the track and check the map 100 or so metres after a junction to make sure you are still going the right way. The land scape is pretty featureless so we really relied on our gps to know where we were. As you progress balls start popping up here, there and everywhere. But its really obvious when you hit the grand finally. Wow, what a sight it is. I'll let the pictures do the explaining.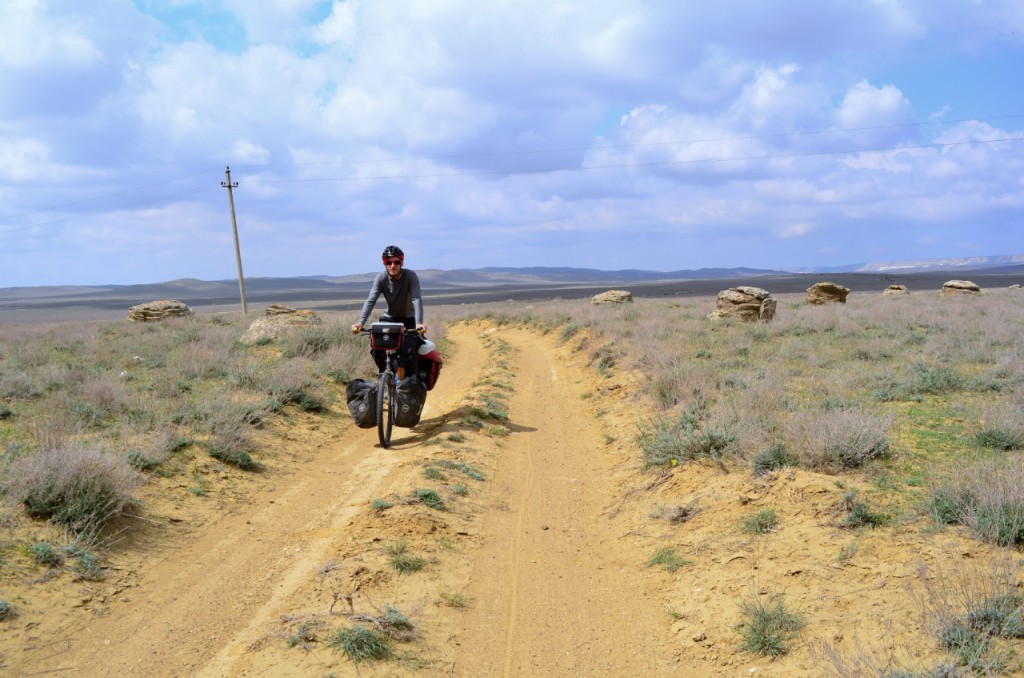 It was now 3pm and we'd had a while to run about, take some photos and enjoy the place. If you look at the pictures you can see a track stretching into the horizon. We had enough water to camp for a night and about 4 litres of drinking water between us for the following day. Previously I thought the next chance of getting water was 62km away in Shetpe, but looking at google earth later I see there is a small settlement called Shayyr 25km from the balls. This settlement also links the main road at Zhyngyldy. Not confident enough to push on into the unknown we decided to camp in a nice spot and head back to the main road the following day. In the end we were both happy with this decision as we woke to the most brutal head wind we have experienced so far. The 70 something km on smooth tarmac to Shetpe took us over 10 hours, we only had a couple of short breaks and spent most of that time slowly battling in the wind. Arriving in Shetpe we were exhausted. The only thought keeping me in good spirits is the sorry sight of us pushing our bikes through deep sand on a track we didn't take, facing the same horrible head wind. Hopefully someone else can send us some pictures of what we missed, or we can save that track for next time.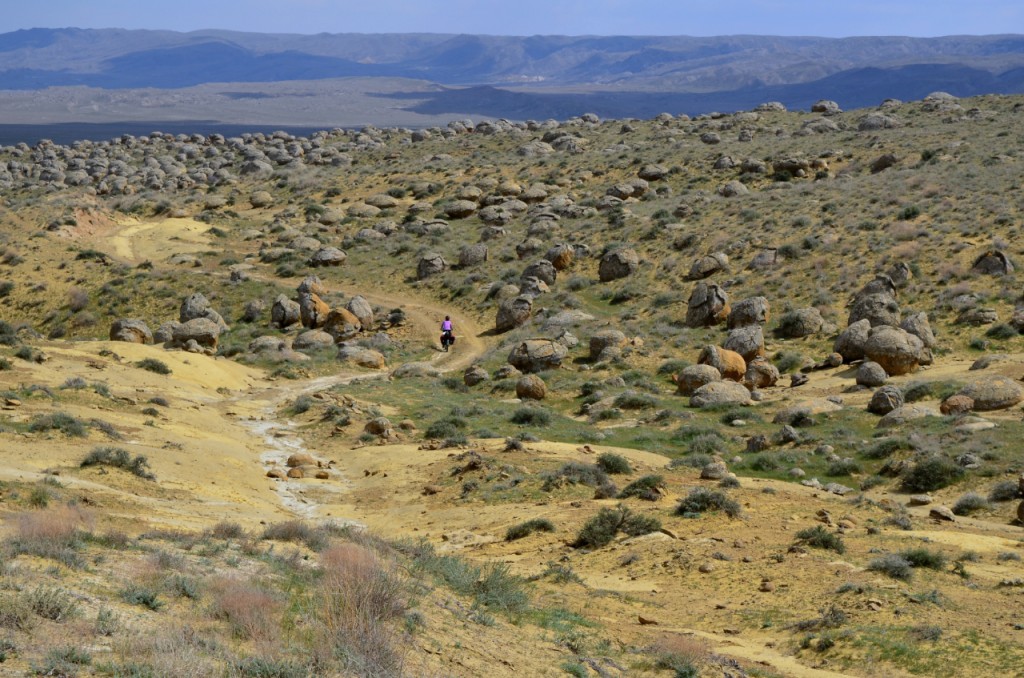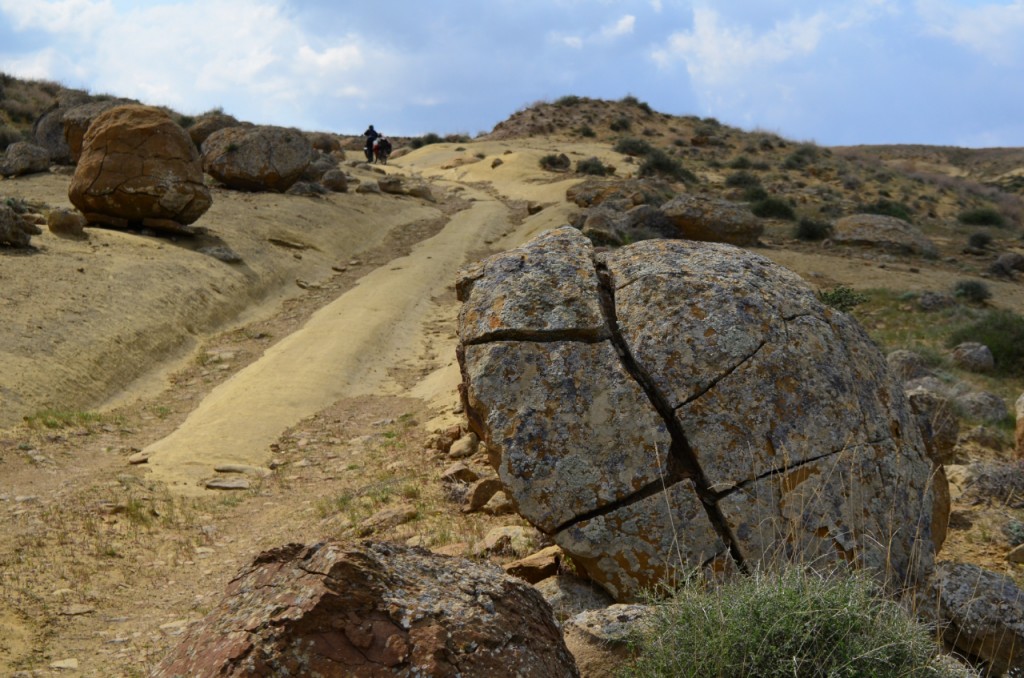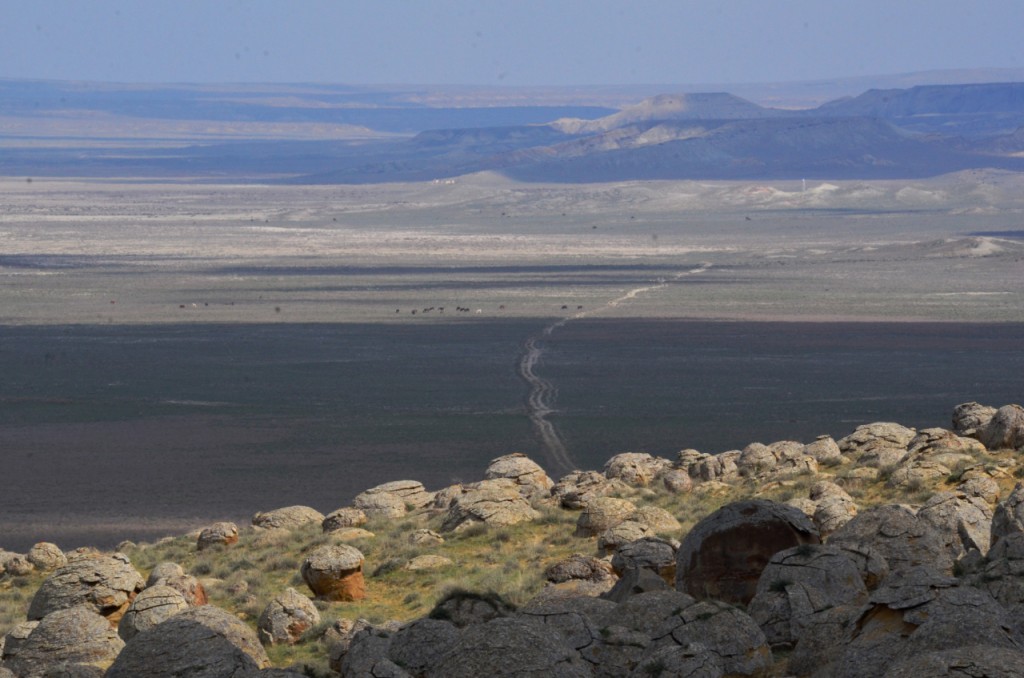 After a good rest day in Shetpe and filling up on supplies we were ready to get back on the bike, and seek out the next sight seeing spot on our itinerary. Ozero Tuzbair. This was even more of a shot in the dark than the valley of balls. This is partly the reason why I am making this post, because there doesn't seem to be any info on either of these places. The picture shown at the sea front didn't match up with the pictures I could find on google, so I wondered even if it was the same place. Also no tracks were shown on any map we had, the only reference I had was google earth showing a crisscross of tracks to the edge of the plateau. Mayu and I agreed that we'll turn off the road as soon as we find a track and cycle as long as we can be bothered. Originally I though it was about 4/6 km off the main road. Its more like 12/13 km. But the track is good enough to cycle all the way. At the end of this post I have put all the gps locations as markers along the track (the first one being the turn off from the main road), if you put them on as map markers you can kind of draw yourself a route. We used these markers like Hansel and Gretel dropping bread crumbs along their path. Again the landscape is flat and featureless so we relied on our gps. There is one landmark however that you approach, its a small graveyard. It can be seen from quite a distance but unfortunately I didn't mark where it was, but you pass right by it. Maybe roughly 6/8km from the main road.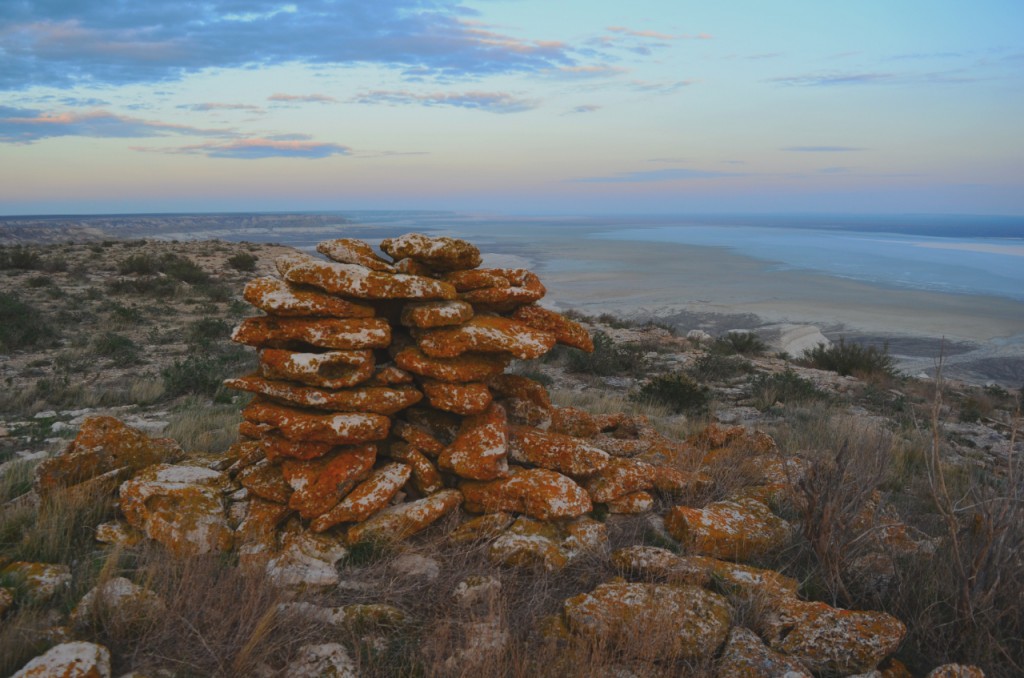 I can't really give much more of an explanation. I think we went straight at any 4 way cross and always bare right whn it forked, but its best to try and get to the next map marker. We just followed our nose until we got to a T junction. Turn right at the T junction and bare left when the track splits, the track splits one more time and bare left again. After 100 or so meters you will see a large pile of rocks, maybe an old grave, and just down from that we found one of the most incredible things we've ever seen. We found ourselves on the edge of the plateau looking out over a moon like landscape with a salt lake 20km wide. Our jaws dropped.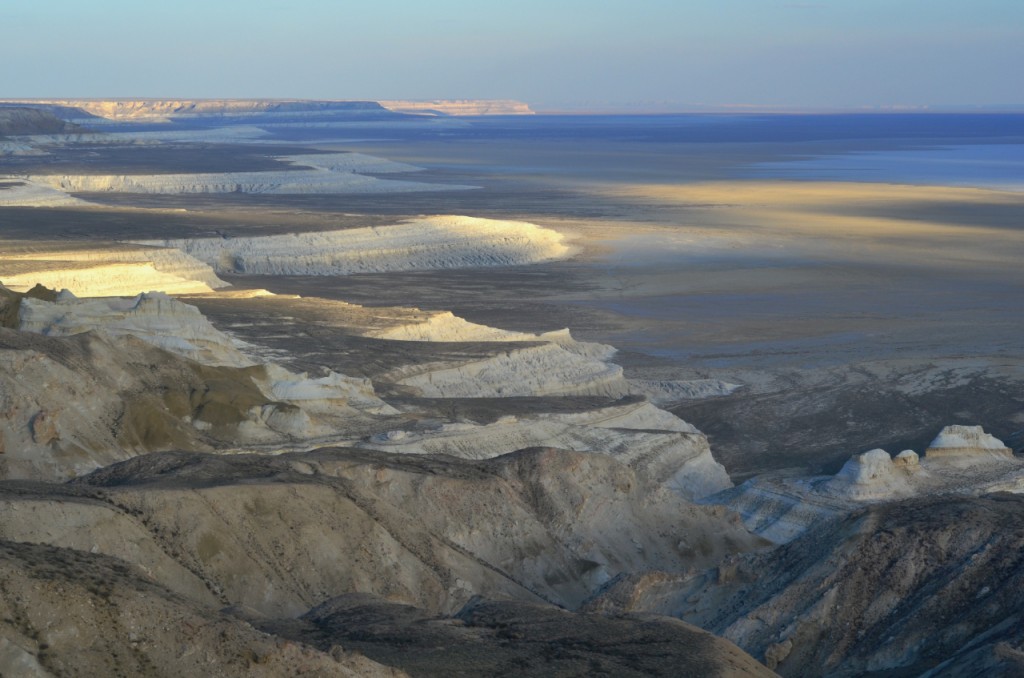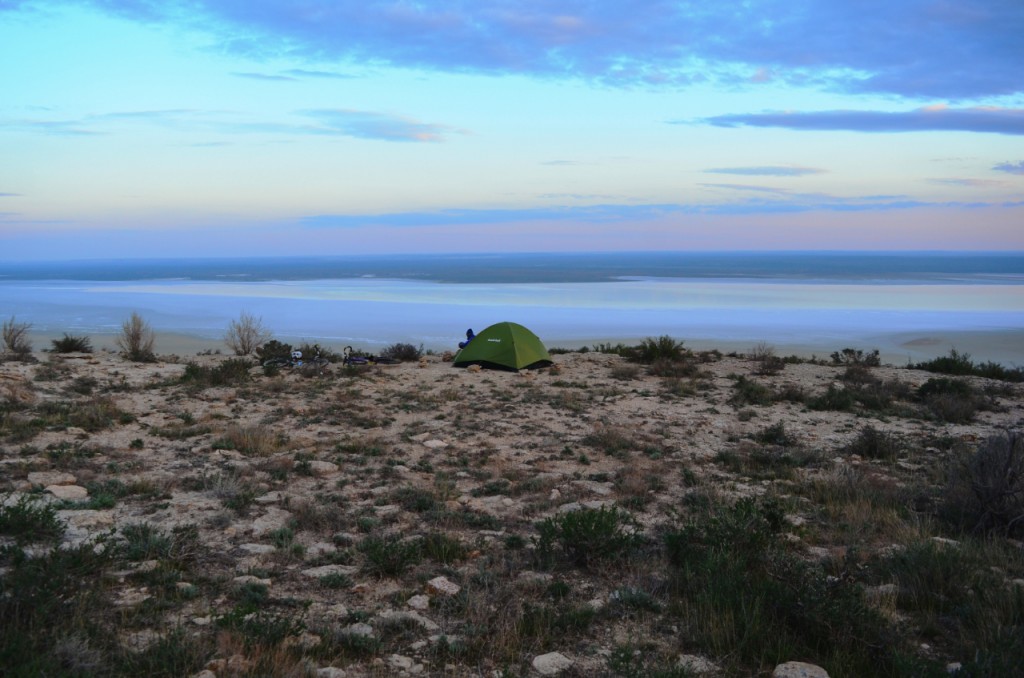 A few moments before we found out that 2.5 litres of water had fallen off my bike due to pesky camel footprints in the dry mud. The track was bone shaking for the last few hundred metres, vibrating off anything improperly secured. We decided that light was fading, and photographs were more important than water haha. Luckily we had enough for the night and new that we could find the water in the morning. The following hours were spent mesmerized by the landscape morphing as the sun set. I had a strange feeling that evening, like we were guests in a place that we don't belong. A world where humans can not live. With the wind howling we had a real battle to get the tent set up and and dinner cooked, but the effort was so rewarding. If you find yourself on this road try to find this place. It won't disappoint.
Here is a list of coordinates starting with the turn off from the road.
44.10695,53.21425
44.10025,53.24368
44.09984,53.24670
44.09416,53.26471
44.08643,53.28380
44.07681,53.29597 (small grave yard)
44.05568,53.29303 (t junction turn right)
44.05093,53.27150 (where we camped by the viewpoint)
Looking now at google earth these coordinates don't line up with a definite track. To say the least, the place is confusing, and as far as we felt we were following the most used jeep track. But maybe this changes year by and as you will see, people drive all over the place. Good luck!