( The english writing will start below. )
私とエリオットのキャンプ熱に拍車がかかったのは、紛れもなく3年前のヒマラヤ登山からだ。
数ヶ月間、壮大なスケールのヒマラヤ山脈で自由にキャンプをし、
毎晩出現する紫色のミルキーウェイの下で眠る開放感はこの上ないものだった。
あの時の解き放たれた感覚は、人工物が何一つとしてない本物の自然のなかに、
ぽつんと小さなテントだけを張って、日々を限りなく質朴に過ごしたおかげだろう。
私はまるでその感覚を追い求めるように、日本に帰国してからも週末になると
キャンプ用品と食材を積んで山へキャンプに繰り出すことが多くなった。
ケープタウンへ移住してからはほぼ毎週末、そそくさと仕事が終わらせると同時に片道3時間かけて、
人里離れた国立公園まで出かけていたほどだ。
この頃、私にとってテントで眠ることは非日常を感じられる娯楽の一部だった。
しかし自転車で旅にでて以来、テント泊するのは週末のみならず、毎晩1日の終わりを過ごす憩いのスペースとなり、
どんな場所にいてもテントの中に潜り込めばアットホーム感を感じるほど、テントが移動式自宅と化した。
毎朝毎晩パッキングとアンパッキングを1時間かけてしなければならないことだけが面倒なのだけれど、
好きな時に好きな場所で寝床を確保できる自由さを思えば、その面倒にも目を瞑れる。
今回の旅で、ヒマラヤでテント泊したときとはまた違った、テントで眠る良さを存分に知れた気がする。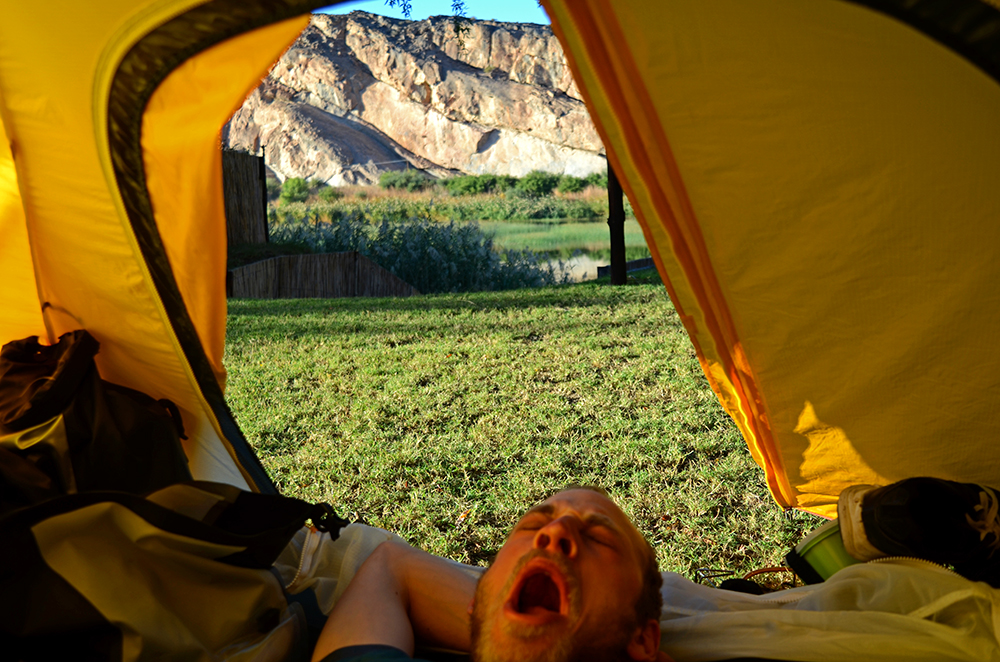 Our tent is advertised as a 3 person tent. There has been occasions when we have had 3 people in the tent.
However this is without any bags, food, basically all that goes with you on a journey. So if you are two people travelling together, I think a minimum requirement is getting a three person tent. That allows you to bring all your luggage from the bike inside at night. Somehow making you feel more 'secure' but the practical reasons are stopping an ant invasion, keeping stuff dry and being able to access all your things without getting out of the tent.
When you compare price and weight of a 2 man vs 3 man theres very little in it. Why not get a 4 man tent then? I did think about this and we are both glad we didn't go for an even bigger tent. On more than a few occasions when we were bush camping in a little hidden spot, I'd have to do a bit of home improving on the ground. A bit of digging with a stick. A bit of pushing earth and rocks around. Just general levelling the ground to make it suitable for the size of the tent. So if we had a bigger tent, it would have meant more work. That is definitely the advantage of a smaller tent. More options to pitch it. Especially in a hilly forest, flat areas are hard to find, and when you do they always need a bit of work.
さて、前置きはこれくらいにして、私たちの我が家であるテントをご紹介したい。
以前は2人用の小さな登山用テントを使用していたのだが、今回はすべての荷物をテント内に仕舞えて、
少しゆっくり出来るスペースのある3人用テントを探すことにした。
そしてとってもありがたいことに、モンベルさんからステラリッジ テント 3型をスポンサー提供して頂きました。
大変ありがとうございます。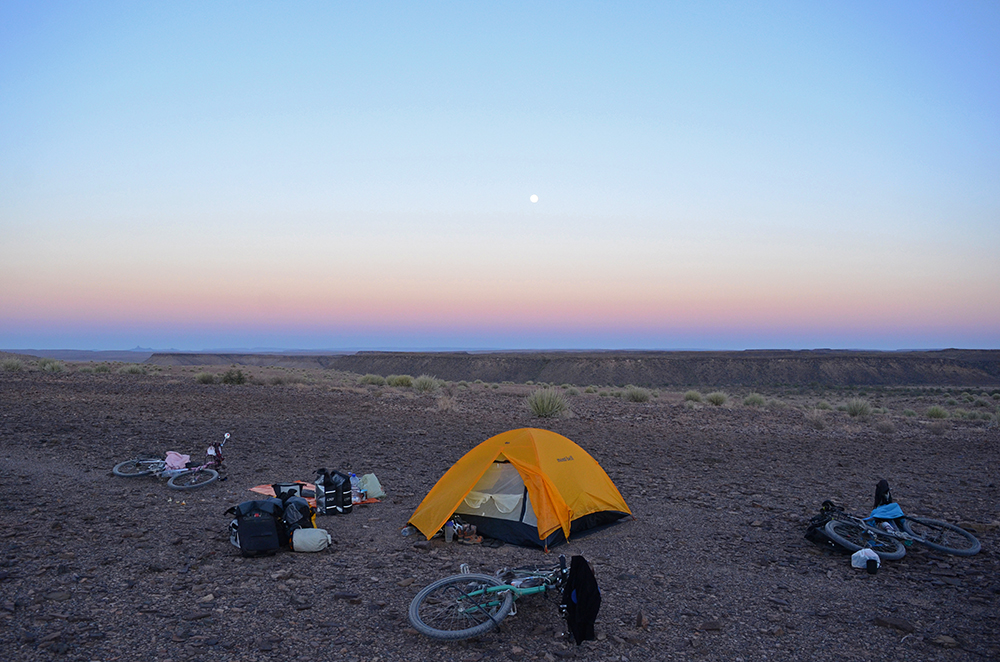 Montbell is a Japanese company that gave us quite a bit of sponsorship, they make just about anything in regards to outdoor activities. Their stuff seems to be pretty durable and well regarded in Japan. I don't think they are so widely known outside of Japan. They have a shop in Switzerland and USA but apart from that its hard to find outside of Japan. However as of 26th July 2016 they offer international delivery all over the world. Thats new to me, not sure what the costs are. Doing a quick search, it seems as though orders over a certain amount are free delivery, but it states that the person receiving the order will be responsible for the import duties. Thats pretty standard for anything outside of EU.
The tent they gave us was the Stellaridge 3. It was the 2014 model, however this model had a bit of an issue with the zip, which they have since solve. The problem was a piece of fabric that acted as a wind baffle over the main zip on the inner tent. It was catching all the time in the zip and put a lot of stress on the zip. In time the zip failed. Our make shift solution was cutting out the mosquito net which was a separate zip and using that as our entrance. However this meant NO VENTILATION, no problem if you are up a mountain and its 5 below, but it failed us in Malawi, with the evening temperatures in the high 20's . . . A real sweat fest to say the least. I certainly wouldn't have enjoyed a third person in our 3 person tent!
So we lived like this for quite a few months, but solved the ventilation problem by putting our mosquito net over the inner tent, didn't stop those damn ants though! However as quickly as something was a pain, it became normal. Montebell were quite happy to send a replacement inner tent to Turkey where we could collect it. To our surprise they sent a whole new tent. So now we have two. This model has had the zipper improved, doing away with that bit of material. Which was kind of pointless in the first place, but good to see that the models evolve for the better.
このテントは、重量2kg以下という驚異的な軽さで、疲れた夜でも素早く簡単に1人で設営できる。
テントが吹き飛ぶんじゃないか、浸水するんじゃないかというような激しい嵐の中でのテント泊もしたが、
大事に至ることは一度もなく、どんな気候でも安心して眠ることができた。
テント内のスペースは、荷物をぎっしり片側に敷き詰めても2人でゆったり寝れるサイズ。
テント内の対角線上2つに付いている小さなポケットも、使い勝手が良かった。
防水面で唯一改善してほしいと思う点は、サイドについてる換気口のデザイン。
雨風があまりに強いと、雨の雫がどうしてもテント内へ滴り落ちてしまう。
そのため、換気口の上部が傘のようにピンと張れるようなデザインであれば、どんな雨でも防げるのではないかと思う。
また、私たちが使用していた2014年モデルは、雨風除けの生地が出入り口のジッパーの上に被さるように付いている。
その生地がどうしてもジッパー開封時に挟まってしまい、何度も使っているうちにジッパーが完全に壊れてしまった。
ジッパーの修理をすることも考えたが、変に生地がダメになってしまうことを恐れ、その後は応急処置として、
小さなモスキートネットを泣く泣く切り落とし、そこから跨ぐようにテント内へ出入りしていた。
モスキートネットがなくなり、テントを完全に閉めて風通しなくアフリカの夜を過ごすのはご想像のとおり寝苦しく、
あまりに暑い地域ではモスキートネット部分の出入り口を完全に開け、持参していた蚊帳をテントの上から被せて
対処していた。
この状況をモンベルさんに報告すると、なんと新たなテント一式を再度提供してくださり、
次に送っていただいた2015年モデルは、その問題となったジッパーに被さった生地が取り除かれていたので、
その後はなんの問題もなく、快適に出入りすることが可能になった。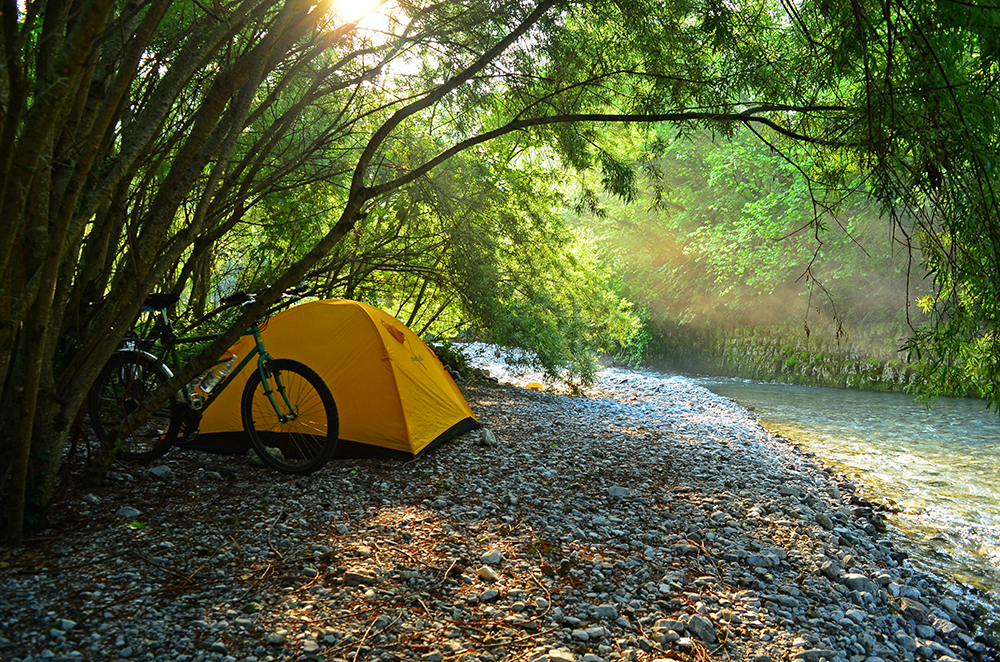 The tent otherwise, is a no frills, simple tent, that uses good quality light weight, strong materials. The material itself is 100% waterproof, the only point that we will give feedback to them is the design of the outside vent. In serious stormy weather we have had to put a plastic bag over the tiny hole that closes the vent to stop the rain from dripping inside. With a slight modification it would be perfect. So hopefully we will see that in their next model.
Another plus that we have seen recently on their website is the option of a green fly sheet (outer part of the tent) as opposed the the bright yellow version that we have. I do understand the yellow as the tent has been designed for the Japanese mountains. Its good in cold, windy and wet conditions. If you get lost and need to be rescued the yellow will help with you being found in the snow. However, being easily seen and being rescued were not our top priorities. So green to match the colour of our surrounding whilst bush camping would have been a real benefit. So this fly sheet will be a welcome addition to our tent.
We are both very happy with this tent, people are always commenting on how small it packs down and how light it is (1.97kg) we have also added to this a ground sheet (290g). This is a must for us as it protects our sleeping matts and also the bottom of the tent keeping everything waterproof. We often use the sheet as our dinner table and a place to chill on before we pitch the tent.
このステラリッジテントは主に登山用として支持されていることもあり、フライシートの色は山での遭難時に
遠くからでも目立つ黄色のみだった。
しかし、私たちはそれとは逆に、人目を避けて山や森の茂みにテントを張ることが多かったので、
ダークグリーンのような目立ちにくいカラーもあればいいなぁとよく思っていた。
そして最近、モンベルのオンラインショップを見てみると、まさに私たちが欲しいと思っていた
フライシートのダークグリーンが発売されていたので、次回ぜひ使ってみたい。
もうひとつ持っていてよかったのが、テントの下に敷くグラウンドシートだ。
このシートのおかげでテント内が雨で湿ることなく、濡れても乾くのが驚くほど早かった。
また野外で自炊をするときには、ピクニックシートのように使うことができ、とても便利だった。
日本が誇る、モンベルの素晴らしいテント。
登山や自転車ツーリングなどのあらゆる環境で、長年大活躍してくれること間違いなしだろう。