Considering the state of our bikes, the panniers have done pretty well.
The reason we were attracted to Altura's pannier bags, they seemed to look a bit tougher. As they have a thick material on the outside protecting a dry bag liner. I know that almost everyone tours with a tarpaulin style pannier bag like ortlieb, but I was a bit concerned that, if the material got ripped then it would be hard to repair.
自転車旅をより快適にしてくれる必須アイテムが、パニアバッグという自転車専用バッグ。
サイクリングが盛んなヨーロッパでは、ツーリングに限らず、地元スーパーへ行くにもこのパニアバックを
持っていくほど、誰もが利用しているバッグなのだが、私はこの旅に出るまで「パニアバッグ」という名前すら
知らなかった。笑
このパニアバッグ、何がいいかというと、バッグを後ろのラックにカチッとはめるだけで自転車に簡単に装着でき、
バッグ本体が車輪の横にあるため、衝撃や揺れに強いのだ。バックパックを背中に背負って自転車を漕いだときの
ように背中が汗でびっしょりになり、肩や腰が痛くなることももちろんない。
さぁ、ではどのパニアバッグで旅に出ようか?と早速ネットで検索してみると、ヨーロッパのパニアバッグブランドが
ずらりと出てきた。その中でも特に多くの旅人が使用しているのが、ortlieb(オルタリーブ)というドイツブランド。
バッグの素材は完全防水で耐久性がとても強く、バッグの容量も大きい。
だけど、いつも「自分でどこでも修理が可能なもの」を選ぶようにしている私とエリオットは、
この分厚い1枚の層のバッグが破れてしまったとき、どう修復できるのかうまく想像できなかった。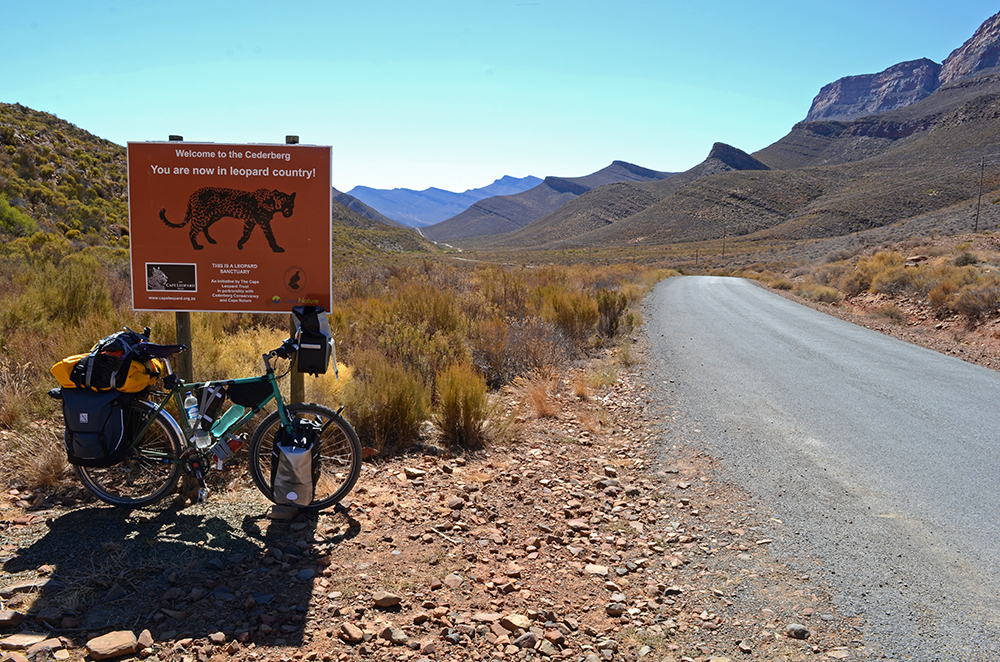 In Tanzania I found out what it would be like to repair such a pannier bag. As my front bags were made of similar a material like ortlieb's panniers. Very annoyingly a mouse or rat ate the bottom of one of my front pannier bags, even worse he didn't even get any of the oats he was after.
At first I tried sewing it back together. Miserable failure. Really I needed a heavy duty sewing machine capable of sewing tarpaulin. I couldn't find this. Instead I went in search of another bag I could hang inside of the pannier to support the weight, which I bolted on inside. I kept the stitching and melted plastic over the threading to re waterproof it all. To cut a long story short it was a real ball ache. However saying that, we only had one mouse/rat incident and its not likely to happen again.
そしてリサーチにリサーチを重ねた結果、後輪メインのパニアバッグにAlturaというイギリスのブランドのパニアを、
エリオットの前輪には無名ブランドののオルタリーブと同じ素材でできるパニアバッグを選んだ。
(オルタリーブの方が強度はいいのかもしれませんが、なかなかのお値段がするので似たような製品を。)
その後半年間、何の問題もなく使用していたパニアバッグだったが、タンザニアで私たちが恐れていた事態が起こった。
食べ物を入れていたエリオットのフロントパニアバッグが夜中にねずみにかじられ、大きな穴が開いてしまったのだ!
しかもねずみは分厚いバッグをかじり切ったにもかかわらず、中の食べ物には一切手をつけていないという理解しがたい行動に出ていた。
破れてしまったものは仕方ないと、替えのパニアバッグがアフリカで見つかるはずもないので自力で修復に挑む。
まず生地を縫製しようとしだが、生地が分厚すぎて手持ちの裁縫セットでは到底縫えない。
そして修復のプロエリオットが考え抜いた方法は、パニアバッグの中にもう一層強度のあるビニールバッグを入れ、
それをパニアバッグとともに固定し、重量を分割するというテクニックだった。
I understand that the tarpaulin material is pretty tough, but if it does break or rip it becomes quite difficult to repair. Altura's pannier bags on the other hand can be repaired quite easily, also it's two bags. A dry bag inside of the more durable outer bag. The material is called Duratec fabric. No idea what that is, so lets just call it tough fabric that I can sew together easily. Also the dry bag is held in place by a band of velcro, this carries a bit of the weight, so if I had a rip on the bottom it wouldn't put so much pressure on the sewing. All of this does make for a heavier bag, but we were not too concerned with weight. Anyone that has seen our bikes understands what I mean.
Another point as to why we decided on Altura was the capacity (56L for the pair) and also it has a front pocket. We seriously abused these bags by over stuffing them with food. I really thought we were trying our luck and the buckles would give way at the seams at some point, but they're still good.
Something that worried me slightly was the klickfix hooks. Because everything was made of plastic, I felt sure that stuff would break. But again, it didn't. Mayu had so many crashes in Namibia with bags flying off, a little bit of plastic broke once, but this didn't effect it too much. We carried spares of that stuff, but worse case scenario would be fixing a hose clip to keep the bag on the rack. It never came to this, and the system is quite well thought out that all the hooks can be easily replaced (if you carry them as a spare of course).
この修復後、フロントパニアバッグはアフリカを出るまで何とか持ったが、荷物を減量したかったこともあり
フロントパニアバッグはエリオットの実家へ送ることにした。
バッグをねずみにかじられる機会はめったにないとは思うが、一度破れてしまったらこのパニアバッグの生地は
災難だということを学んだ。
一方で、Alturaのパニアバッグは二重構造になっており、少々破れても簡単に縫製ができるのが長所だ。
二重というだけあり、バッグ自体の重量もなかなかのものなのだが、自転車自体すでに18kgもあるので、
少々の重さの違いは体感できないだろう。
また、私たちはAlturaのDryline 56というタイプを提供してもらったのだが、ペアで56Lという大容量なのも
うれしいポイントだった。旅後半は、後輪のパニアバッグ2つのみで旅をしていたので、いつもパッグか閉まらない
ほど荷物を詰め込んでいた。そのため、今はパッグの生地が伸びて、容量60Lは入るだろう。
そしてひとつ心配だったのが、バッグとラックを留めるプラスチックのフック。
南アフリカとナミビアで、何度も激しく転倒し、パニアバッグが吹っ飛ぶ度にフックが壊れたんじゃないかと
気にしていたが、意外にも壊れることはなかった。だけどスペアパーツは持っていて損はしない。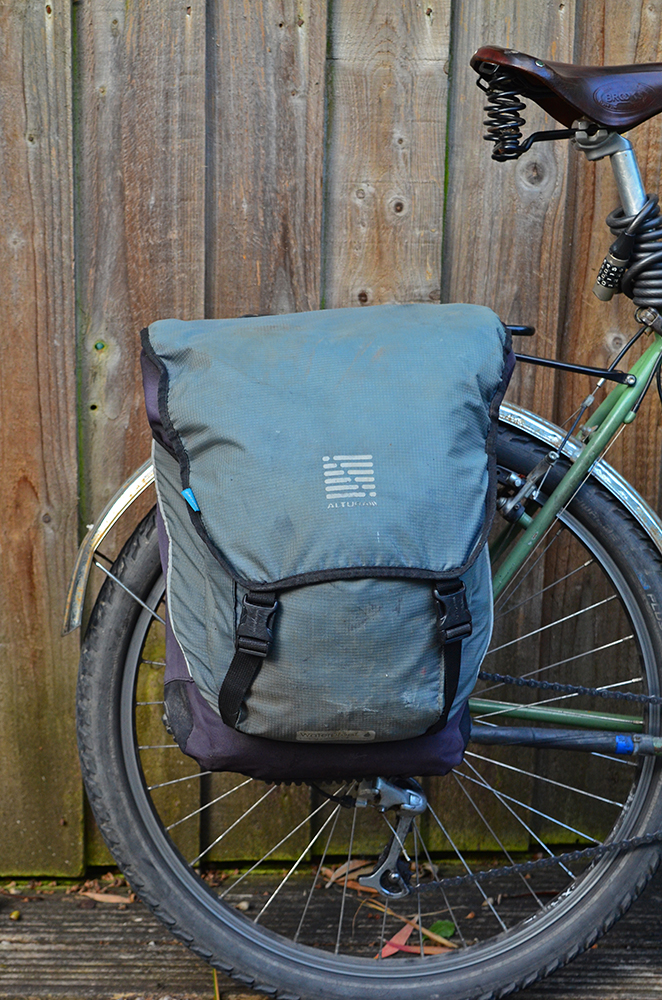 Altura call the pannier's 'dry line'. They were pretty good in terms of waterproofing at the beginning.
However over the trip through constant abuse the welded seems have come apart a little on the dry bag. Stuff doesn't get wet inside, just a bit moist, and thats in a heavy down pour. So still not a big deal to be honest.
I'm going to make a couple of suggestions to them in the design. I think the lid of the bag should be made of a rain proof material, as a first line of defence to take the pressure off the inner dry bag.
Also I think the dry bag itself shouldn't have any seams, like a normal dry bag that you roll down and clip together. These two things would be a big improvement to a really good pannier bag. Thanks Altura!
最後に、パニアバックで一番重要な防水面。
このバッグを手に取ってみると、本当に完全防水か?!と思うような生地なのだが、実際防水の役割はきちんと果たしてくれた。しかし、激しい豪雨のときは、どうしても中の荷物が湿ってしまうので、寝袋や衣類はドライバッグに入れておく必要がある。
防水面と外側の生地の強度面で少し課題はあるものの、長期の自転車旅にはおすすめのパニアバッグといえるだろう。