Personally I think our mattress was one of the most important things we took on our travels. To have it functioning every night without failing, sets us up ready for another day cycling.
A guy in Croatia said jokingly 'you can survive a month without food, 3 days without water, but a day without sleep and you're finished!' It's true in a way, sleep is so important. I know a lot of people struggle to get a good nights sleep in the tent. So when my mattress started failing and I had to sleep on my spare clothes every night. I really wish I had a working mattress again.
長期自転車旅やトレッキングのアイテムとして、私たちがもっとも重要視しているのがスリーピングマットレス。
どんなマットレスを使ってるかによって、毎晩ぐっすり眠られるかがずいぶん変わってきます。
クロアチアで出会ったある男性が、「人間は、食べ物がなくても1ヶ月生きられる。水がなければ3日間。だけど睡眠は1日も欠かせないよ!」と冗談交じりに語っていたのを思い出した。
ある意味で確かに。快適な睡眠は、それほど日々アクティブに活動するために大事だと言えます。
だけど、どうしてもテントではよく眠られない、、、という人のために、私たちが愛用するマットレスをご紹介します。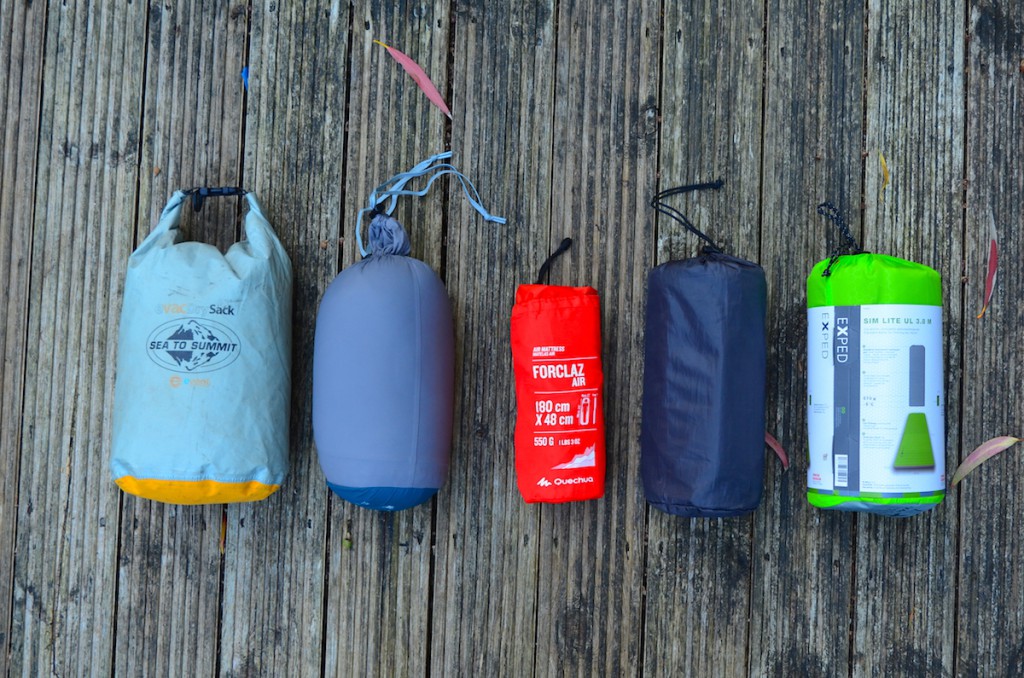 The first mattress Mayu and I both had was from Exped (Sim Lite UL 3.8 LW). I'm not bad mouthing it by any means. Its been a great mattress for the last 3 years. With some pretty heavy usage, around 200 nights maybe more.
In the first trip we had in India hiking in the himalayas, I think we miss treated it a bit. Our tent didn't have a separate footprint so often things would pop through and puncture the mattress. Also we would roll them up outside on the ground, we'd never do that now, we always roll it up inside the tent so no sharp pieces can get caught in the mattress and puncture them. Through the whole of this cycling trip we didn't have any punctures, due to taking care I guess and also having a thick footprint to go under the tent. But in case we did have punctures I found this really good glue called storm sure, its a rubbery flexible glue I think for marine stuff. I used it on other bits and pieces, takes about 12 hours to set but its very tough and flexible after that.
旅のはじめに使用していたマットレスは、3年前購入したEXPED sim Lite UL 3.8M (写真一番右) 。これまでおよそ200回以上使用。マットレスの間にフォームが入っているため防寒にとても適しており、以前行ったヒマラヤ登山では、氷点下の気候でも底冷えすることなく大活躍してくれた。671gとまぁまぁ重さがあり、サイズも小さくはないけれど、膨らますのもパッキングするのも簡単。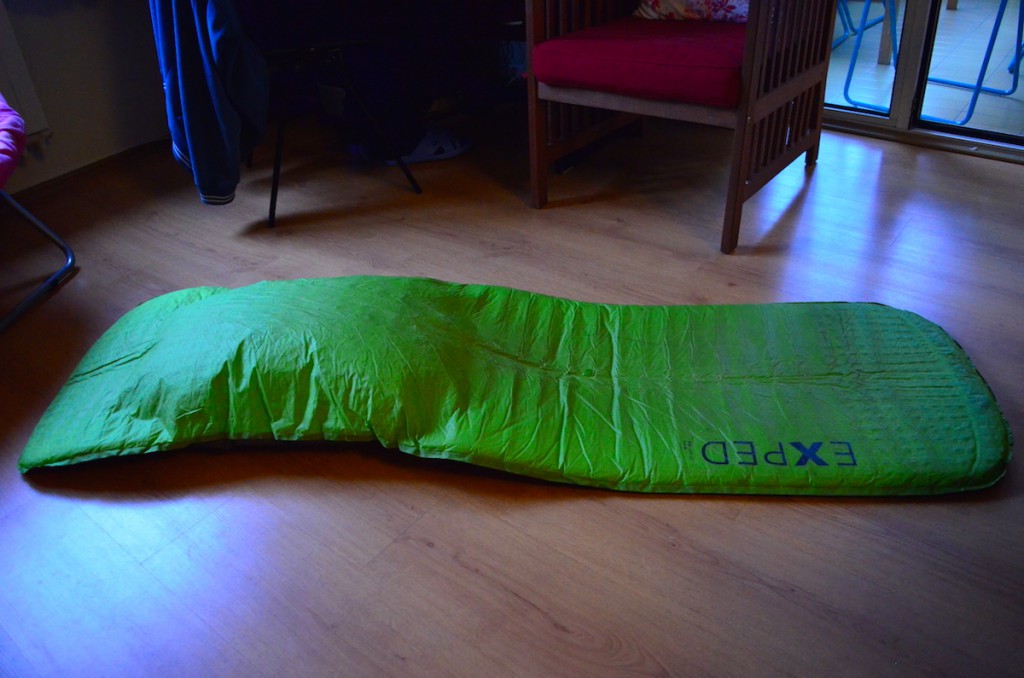 However in Rwanda my mattress started showing a small bubble and it gradually got worse until it was like sleeping on a ballon. Basically the material started to de laminate from the foam inside, and now that it has happened to both mattresses we know that once it starts, theres really no stopping it . . . I guess its just the shelf life of the glue and rolling and unrolling it over the years, and also blowing them up a bit too hard.
One thing I will say and give Exped a lot of credit for was the guarantee. They replaced both mattresses under a 5 year warranty free of charge. That was pretty good of them, however this didn't really help me as it was sent to my parents place in England. So in the mean time I had to make do with a little piece of foam I bought on the street in Uganda for a dollar. Saved my hips a few times, but not ideal by any means.
しかし残念ながら、アフリカのルワンダに差し掛かったところで、エリオットのマットレスに問題発生。中のフォームが弾けて風船のように膨らんでしまった。その数ヶ月後にはケニアにて、私のマットレスも同じ状態に。この風船状態になってしまうと、もう修復の仕様がないのがこの商品の欠点だ。
これを防ぐ方法としては、マットレスの空気を入れるとき、空気をあまりパンパンにまで膨らませないことだろう。
( ※後日上の写真をExpedに送ったところ、5年間は無料保証が効くということで、新品の同じマットレスを2つ送ってくれました。)
Another cyclist we met had this Thermarest mattress without any foam (Therm-a-Rest NeoAir Venture WV), I liked the idea as it was lighter and hopefully we wouldn't run into the same problems. I got it sent to Turkey so once again I could sleep in comfort. Its super thick but isn't as warm as the exped (the R value is lower) but until we are out in arctic conditions I'm not really fussed about this.
Mayu's mattress ended up going same route as mine, but lucky for her we were back in camping shop land and bought a mattress in decathlon. But time will tell how these 2 new mattresses will do over time.
その後、Expedの代用としてエリオットが購入したのは、Therm-a-RestのNeoAir Venture WV Regular (写真右から2番目)。さらにそのあと私が購入したのは、DecathlonのForclaz air (写真右から3番目)。
どちらも中にフォームが入っていないため保温性には欠けるものの、Expedと同じく5mmの厚さがあるので十分快適で大満足。しかしTherm-a-Restは空気を入れるのに少々時間がかるため、標高の高い登山などで息が切れることは間違いないだろう。
そして意外にも良かったのが、Decathlonのマットレス。値段はExpedとTherm-a-Restの半額ほどにもかかわらず、とても心地よく眠ることができる。また5mm厚のマットレスにかかわらず、このコンパクトさは素晴らしいの一言。
まとめとして、どのブランドにせよ、5mmほどのしっかりとした厚みのあるシンプルな構造のマットレスを、長期の旅には絶賛おすすめします。そして、空気をパンパンに吹き込まないこと、また地べたには置かず、テント内だけで使用することがパンクや破損を防ぎ、長持ちにつながると思います。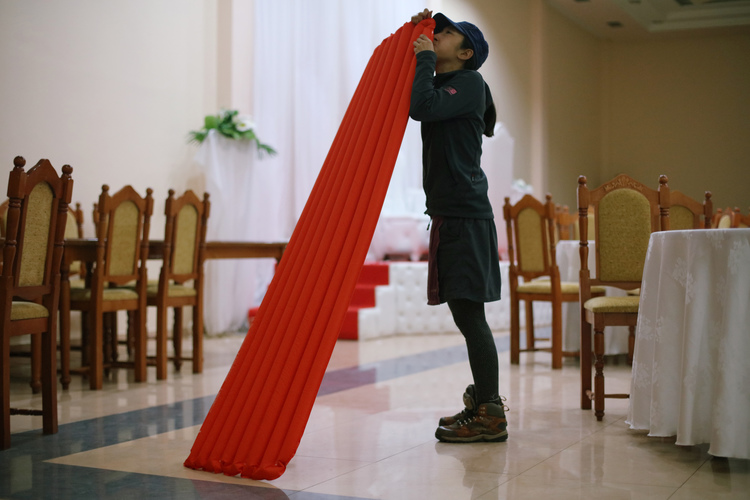 Our sleeping bag in from mont bell, is down filled and from the size and weight (600g) its really warm. I think the coldest we had is maybe -5 degree C and felt comfortable with some leggings and jumper on. Unfortunately its not a common brand outside of Japan but you can get it in the united states and Switzerland.
Again we have had these sleeping bags for well over 3 years and they are going strong. We've kept them in a waterproof stuff sack and not washed them many times (yeah I know pretty smelly). But we hang them out in the sun as often as we can to sterilise them haha. And now that we are home we don't store them rolled up, to keep the airy and fluffy. Oh and we washed them too!
I think with both of these things, look after them well and they will look after you :-)
もうひとつの大事なテント内アイテムは、寝袋。
これも3年前に購入したmontbellのダウンハガー650 (写真右から4番目)を使用。お値段2万5千円と、私たちにとってはかなりの大金だったため、購入時は随分ためらいましたが、今はあの時投資してよかったと実感しています。
montbellの寝袋バリエーションはとても幅広いため、どれを選ぶか迷いがちですが、このタイプは、春秋のトレッキングやキャンプにぴったりで、またダウンやインナーなどの持っている服をすべてを着込めば、マイナス5度の寒さも防ぐことができました。分厚すぎず、薄すぎず、さまざまな気候で活躍します。そしてなんといっても、この600gという軽さと小ささで、かつ保温性のある寝袋は、海外でもめったに見かけることがありません。これが寝袋?!と多くの旅人から驚かれる、びっくりアイテムです。購入してからかなりの頻度で使用しているため(多分250回以上)、中の羽は徐々に抜け落ち、ダウンが薄くなってきていますが、まだ保温性は残っています。
また雨に濡れることを防ぐため、寝袋は常にウォータープルーフバッグに入れています。(写真一番左)
旅中に持っているアイテムのメンテナンスをきちんとすることはそれほど容易ではありませんが、とにかく大切に扱えば扱うほど、長年あなたに心地いい睡眠を与えてくれること間違いなしです。